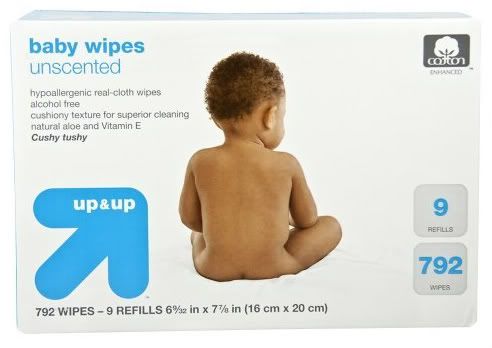 Really...I know, but for the past year and a half we've been trying to figure out how to use up all of the wipes we stockpiled while my dd was still in diapers. So I thought I'd pass on a little of what I've learned in our conservation experiment. On a side note, we have always used unscented wipes. I have fragrance allergies and frankly, the smell of baby powder from most wipes just grosses me out!
1.
washing little hands & faces
- These are great to use while camping, shopping, dining out, etc. I usually have a few on hand at all times. They work just as well for adult hands & faces.
2.
makeup removers
- They work great on washable waterproof and regular mascara (I've never tried it with traditional waterproof mascara). They don't irritate eyes like some cleansers can. It's a great alternative to "I'm so tired, I'm going to sleep in my makeup".
3.
smoothing flyaway hair
- As a photographer by profession for several years, this is one of my favorite tricks. Glide the wipe gently over the hair a few times and the flyaways will tame. It won't make the hair look wet either. DO NOT make the mistake of using a Clorox wipe for this trick. I heard a lovely story from the photgrapher when we got my daughter's Christmas pics taken. She said it bleached a noticable patch of the child's hair almost instantly. I feel sorry for that mom and I wasn't even there!
4.
cleaning rubber stamps
- I always hated trying to clean rubber stamps, especially the kind with the wooden base before I discovered this trick. Just wipe them down with a baby wipe when you're done. It gets into all of the nooks and crannies and saves a lot of time and frustration.
5.
quick clean ups
- Occasionally I use wipes to pick up dust, clean dirt off of a wall or wipe down counters. Baby wipes sure are handy to have around aren't they?
6.
cleaning tile floors
- You would laugh if you came to our house on "cleaning day". You might find my daughter and I "floor skating" in the kitchen on our tile floor. We put wipes on the floor, put our feet on top, then we "skate" around the floor to clean up the dirt. It really is a fun way to do a boring task and she doesn't complain at all about helping.
7.
paw wipes
- Our dog likes to get dirty sometimes. I would rather not have to clean the tile floor everyday so occasionally we resort to using wipes to clean paws on days with bad weather. We taught her to "wipe her feet" on the rug when she came inside as a puppy but now that she's getting older, she just ignores the request. She hears, she just doesn't listen.
8.
dry erase clean up
- Yucky streaky dry erase boards can be remedied with a simple swipe of a baby wipe. Just wait a minuted for it to fully dry before you try to write on it again.
9.
light stain removers
- Got something on your shirt at lunch? Splatter yourself with a bit of toothpaste? Were you the victim of food flinging by your toddler? Notice a spot of dirt on your pants? Baby wipes to the rescue! Just wipe the stain with a baby wipe. Depending on the stain, it may just get the whole thing out or leave a less noticeable spot. Either way, the stain will be easier to get out in the wash later.
10.
wiping baby bottoms
- And last but not least, the original use for baby wipes...for baby bottoms. Did you think I was going to forget this one?
This was not an exhaustive list by any means. Just my top 10. What creative uses have you found for baby wipes?